Exploring North: County Road S2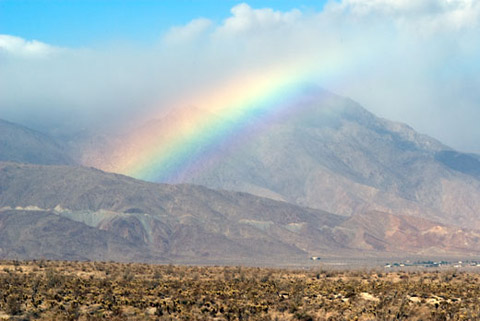 San Felipe Valley
Historically, the trans-desert route to California by way of the San Felipe Valley is the third route used by non-Indians. The first was Anza's route through Coyote Canyon, the second the Fages route through Oriflamme Canyon. The San Felipe Valley route dates to the 1820s when California was part of Mexico. Major use ended after the Civil War when a highway and railroad were built to Los Angeles by way of the Salton Sea, the San Gorgonio Pass, and what is now Interstate-10.
Today, most of the land along this stretch of County Road S-2 is private property. From north to south, points of note include: Highway 79, Warner-Carrillo Adobe and Butterfield Stage Station, County Road S-22, Teofulio Summit, San Felipe, San Felipe Valley, Highway 78.
For more on the history of the area, see the articles on Lt. Santiago Argüello, San Felipe, San Felipe Indian Village, San Felipe Ranch, and San Felipe Stage Station in Anza-Borrego A to Z by Diana Lindsay.
Exploring North: County Road S3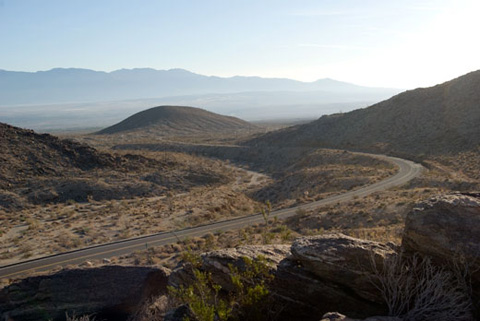 Yaqui Pass Road and Ship Rock with Borrego Valley in the Distance
Twelve miles long, County Road S-3 connects Highway 78 and County Road S-22 at Christmas Circle in Borrego Springs.
Points of interest include Yaqui Well, Tamarisk Grove Campground, William L. Kenyon Overlook, Yaqui Ridge, Pinyon Ridge, Yaqui Pass Campground, Ship Rock, and Glorietta Canyon.
From Highway 78 to Borrego Springs Road, S-3 is known as Yaqui Pass Road. From here, Borrego Springs Road continues northwest (as S-3 to Christmas Circle) and southeast to Highway 78. From Christmas Circle, Borrego Springs Road continues to Henderson Canyon Road.
Exploring North: County Road S-22
County Road S-22 opened in 1963. Before that time, access to the Borrego Valley was significantly more difficult. From the west, motorists went from the Montezuma Valley down the Grapevine Canyon Road and San Felipe Wash (Highway 78) to the Narrows where they turned northwest on what is now the Old Borrego Valley Road. From the east, motorists used the Truckhaven Trail.
From west to east, S-22 is known locally as follows:
Montezuma Valley Road

Palm Canyon Drive

Pegleg Road

Borrego-Salton Seaway
Exploring North: Highway 79
Highway 79 is a major route to Anza-Borrego from Temecula and points north.
Temecula

Interstate 15. Temecula wine country.

Dripping Springs Campground (US Forest Service)

Hiking access to Palomar Mountain.

Aguanga

Highway 371 leads to Anza, with northern entrances to the state park, and Highway 74 with access to the Pacific Crest Trail, Toro Peak, and Santa Rosa Mountain.

Oak Grove

Campground maintained by US Forest Service. More.

Chihuahua Valley Road

California Riding & Hiking Trail. Indian Flats Campground. Lost Valley Road to Anza-Borrego Desert State Park and Pacific Crest Trail. Combs Peak. More

Sunshine Summit

Grocery/Hardware store. Cafe.

Warner Springs

Airport. Indian Flats Campground. Pacific Crest Trail.

San Felipe Valley Road

County Road S-2 to County Road S-22 and ABDSP.

Highway 76

West to the coast by way of Fallbrook and Oceanside.

Santa Ysabel

Historic interest. Craft and antiques shopping, market, restaurants, and bakery. Hiking.

Julian

Historic interest. Mines, wineries. Food and gas. Shopping.

Exploring North: Highway 86


Travertine Rock

Highway 86 defines the east side of Anza-Borrego North, from Salton City north to the Riverside County Line.

On the south edge of Salton City, the road to the county dump can be followed to Pole Line Road and south into the Ocotillo Wells State Vehicular Recreation Area. The Truckhaven truck stop and cafe formerly stood on the north edge of Salton City, on the east side of Highway 86 from Truckhaven Road.

For those with four-wheel drive vehicles, several washes west of Highway 86 provide access to the Truckhaven section of OWSVRA. Of particular interest are Grave Wash for its fish traps and Wonderstone Wash for the rocks of the same name.

Travertine Rock is just south of the county line. Avenue 86 provides access to Anza-Borrego Desert State Park, one mile to the west, in San Diego County at Travertine Palms Wash.

Travertine Palms

Exploring North: Highway 371





Thomas Mountain

Points of interest include:

Aguanga

Highway 79 west to Temecula, southeast to Oak Grove, Sunshine Summit, Warner Springs, County Road S-2 to ABDSP.

Wilson Valley Road

Reed Valley Road. Sage. Hemet.

Lake Riverside Estates

Gated community on site of historic Parks ranch.

Chihuahua Indian Reservation

Cahuilla Casino.

Cary Road

Tripp Flats Road to Bautista Road. Turnoff to Cahuilla Mountain hiking trail and Juan Diego Flats.

Bautista Road

Bautista Canyon.
Food and gas. Hamilton Museum.

Kirby Road

Terwilliger Valley Road. Coyote Canyon Road to ABDSP. Horse Canyon. Nance Canyon. Upper Willows .

Pacific Crest Trail

May be accessed by vehicle on Tule Spring Truck Trail, Coyote Canyon Jeep Road, or Table Mountain Truck Trail.

Pines to Palms Highway (Highway 74)

West to Garner Valley, Thomas Mountain, Hemet, I-15, and San Juan Capistrano. East to Pinyon Pines and Palm Desert.