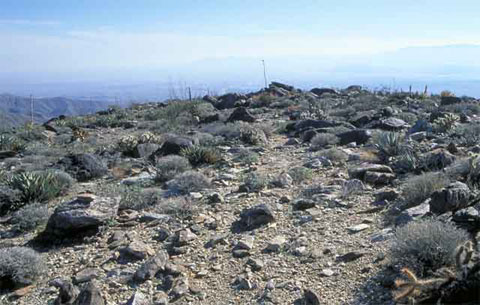 Santa Rosa Mountains: The Way Down
ANZA-BORREGO NORTH : DRIVE AND HIKE
Start at Borrego Springs. At the western edge of town you will find Borrego Palm Canyon, at the base of Indian Head. The Borrego Palm Canyon Trail starts at the west end of the campground and leads up to the Palm Canyon Oasis. In the mountains to the west are the California Riding & Hiking Trail, Culp Valley, the Jasper Trail, and the Pacific Crest Trail. North of Borrego Springs (at the north end of DiGiorgio Road) the Coyote Canyon Jeep Trail leads to Alcoholic Pass, Desert Gardens, Coyote Creek, and much more. Heading east from Borrego Springs on County Road S-22, you've got the Santa Rosa Mountains on your left and the Borrego Badlands on your right.
Anza-Borrego North is not a place of wide-open roads for driving great distances. The mountains see to that. The Coyote Canyon Jeep Trail, the longest road in the area, is about 12 miles from south to the north closure at Middle Willows, but after five miles at Third Crossing you come to a boulder-strewn point in the road that should only be attempted by vehicles with very high clearance and driven by experienced drivers. The next longest roads in the area are the Rockhouse Canyon Road and Palm Wash. Both are less than 10 miles long.
If you need a longer drive off the pavement, head east on S-22 and turn right at Palo Verde Wash, Arroyo Salada Wash, or at the Ocotillo Wells State Vehicular Recreation Area and head for Anza-Borrego Central.