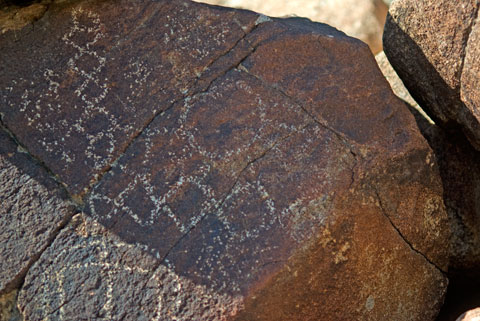 Pictographs, Clark Valley
ANZA-BORREGO NORTH : NATIVE AMERICAN SITES
Historically, most of Anza-Borrego North was the territory of the Mountain Cahuilla. The Cupeño inhabited the area around what is now Warner Springs.
When the Mountain Cahuilla left the Santa Rosas, they unfortunately left little or no evidence of their village sites. While anthropologists have been able to conduct interviews and write several good books on Mountain Cahuilla life, the visitor to their territory can for the most part only imagine what it took to survive here.
The trails would have been trade routes. We know that the village of Natcuta stood somewhere near where White Wash joins Horse Canyon. The village of Ataki was about 10 tough miles up White Wash, over the mountains, and down to Hidden Spring in Jackass Flat near Rockhouse Canyon. On his expeditions to Monterey and San Francisco, Anza passed through what was then the village of Pauki.
Schad identifies Alcoholic Pass as an original Indian route. Hikers who walk up Palo Verde Wash past the Moly mine to the Natural Sheep Tanks cross the old Cahuilla trail to Wonderstone Wash which leads to further Cahuilla trails.
It goes without saying that trails connected the villages of Natcuta in Horse Canyon, Pauki near Anza, Wiliya and Nauhanavitcem in Fig Tree Valley, Tcia near Alder Canyon, Pat-cha-wal or San Ignacio, Hokwitka on the Middle Fork of Borrego Palm Canyon, and Ho-la-kal or San Ysidro on San Ysidro Creek on the west slope of San Ysidro Mountain.