ANZA-BORREGO SOUTH : ROADS Yuda Desert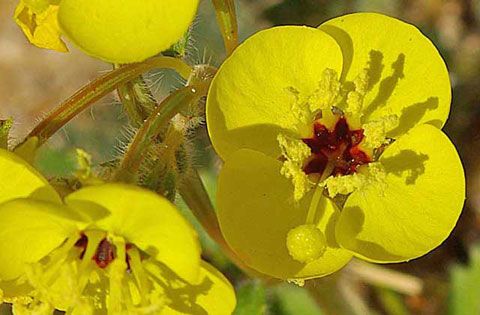 Peirson's Evening Primrose, Pinto Wash, Yuha Desert
The Yuha Desert is a small part of the Sonoran Desert in southwestern Imperial County. From Coyote Wells, it extends eastward across Pinto Wash to the county's agricultural area. From Interstate 8, it extends southward to the Mexican border. The Yuha Desert is an Area of Critical Environmental Concern, defined by the Bureau of Land Management and managed by the BLM's El Centro office.
The Yuha Desert is of interest for a number of reasons. The land was once under water, and visitors search for fossils, rocks, and minerals. Other visitors are attracted by some of the unusual plants of nearby areas including Crucifixion Thorns on Highway 98, Desert Bird-of-Paradise in Fossil Canyon, and Wolf's Cholla in the northwest along Dos Cabezas Road. The Yuha Basin was part of Anza's historic route to California and a place where Native American and early man discoveries have been made.
From a distance, a prominent physical feature is Mount Signal, or Cerro Centinela, which lies on both sides of the border.