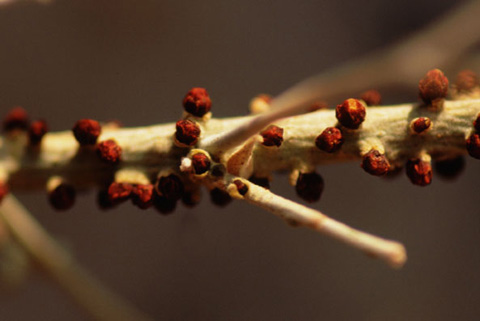 Thurber's Pilostyles, Smallest Plant of the Desert
ANZA-BORREGO SOUTH - PLANTS
The west-side mountains of southern Anza-Borrego, specifically along the Elsinore earthquake fault, are home to the Washington Fan Palm, the largest tree in the desert. The dirt road from County Road S-2 to Mountain Palm Springs is lined with Pink Teddy Bear Cholla, the tallest cactus in Anza-Borrego. In fact, many specimens can be called trees. Tall specimens of the Elephant Tree also are found here.
On the other hand, if you like small, it's often possible to find clumps of the Thurber's Pilostyles parasite attached to White Dalea. Thurber's Pilostyles is the smallest plant in the desert.
In late spring, Indian Valley is renowned for its stands of Spiny Senna with golden yellow flowers. You go through Indian Gorge to get to Indian Valley. A few weeks later, you can return to see the gorge's deep blue Smoke Tree flowers. Beside the dirt road from County Road S-2, you will see lots of Gander's Cholla which produces yellow-green flowers in spring.
One pretty flower which likes to blossom in the north-facing Sweeney Pass of County Road S-2 is the Heart-Leaved Primrose with yellow flowers that turn red with a little age.
Further south, if you are lucky, you may find the red flowers of the Wolf's Cholla beside County Road S-2. Look for it between the Anza-Borrego Desert State Park entrance and Ocotillo and toward the western mountains around Dos Cabezas (on the Mortero Wash Road) and Mountain Spring (off Interstate 8).
South of the town of Ocotillo, County Road S-2 ends at Highway 98. A left turn here takes you to the enclosed area which is home to another unusual plant of the area, the Crucifixion Thorn.