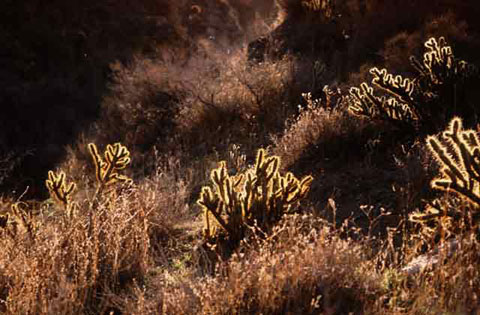 Teddy-Bear Cholla in Morning Shadows in Box Canyon
ANZA-BORREGO SOUTH : HISTORIC TRAILS
If Pedro Fages was correct, the first Europeans to enter Anza-Borrego were a trio of army deserters from the post in San Diego in 1772. Fages came to Anza-Borrego by way of Lake Cuyamaca and Oriflamme Canyon in that year. He went on to the Carrizo Corridor, San Sebastian Marsh, and Coyote Canyon before going to the Mojave Desert and San Luis Obispo.
For History – Anza Trail, Cattle, Fages's Route, Mexican Trail, Mining, Stage Coach routes, Vallecito Station.
Here are some favorite places for hiking, backpacking, and off-road driving in central Anza-Borrego:
Anza Trail — Harpers Well, San Sebastian Marsh, Los Puertocitos, and Borrego Spring (San Gregorio) are among expedition checkpoints through central Anza-Borrego.
Southern Emmigrant Trail — The route followed by Kearny's Army of the West, the Mormon Battalion, Gold Rush miners and adventurers, and the Butterfield Overland Mail went through Box Canyon, over Foot & Walker Pass, and up Earthquake Valley and San Felipe Valley.
Oriflamme Canyon — At various times, this lovely canyon has been used by Pedro Fages (onetime governor of California) in search of deserters from the Army post at San Diego, by the so-called Jackass Mail (officially the San Antonio and San Diego Mail Line), and by entrepreneus James R. Lassitor who grew hay in Green Valley (Cuyamaca Rancho State Park) for the stagecoach horses. Both James Birch, who founded the Jackass Mail line, and Lassitor died tragically.
Plum Canyon — The old route between Sentenac Cienega and Yaqui Well, said to have been built by pioneer John McCain.
Old Borrego Valley Road — from just east of The Narrows to Ram's Hill. Before County Road S-22 was built, this was the road taken to Borrego Springs after coming from Warner Springs down Grapevine Canyon.