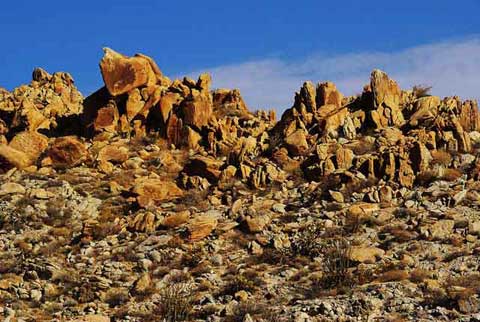 Jacumba Mountains in the Southern Desert
ANZA-BORREGO SOUTH : DRIVING AND HIKING
The major paved highways through the southern desert are County Road S-2 (north-south) and Interstate-8 (east-west). The quieter Highway 98 goes east-west between Ocotillo and Calexico. Suggested loop tours through the area would be to take S-2 in one direction and to travel the opposite direction either on County Road S-1 (Sunrise Highway) through the mountains or Highway 86 or Highway 78 in the desert.
Major areas to explore include:
Tierra Blanca Mountains – Mountain Palm Springs, Indian Valley
Bow Willow – Carrizo Gorge Wilderness Area
Carrizo Badlands – Arroyo Seco del Diablo, Arroyo Tapiado
Coyote Mountains – Canyon sin Nombre, Fossil (Shell) Canyon, Painted Gorge
Dos Cabezas – Mortero Wash, Indian Hill
Yuha Desert – Yuha Basin, Highway 98
Motorists without 4WD vehicles should be careful about driving off of paved highways, especially onto roads along or across sandy washes.