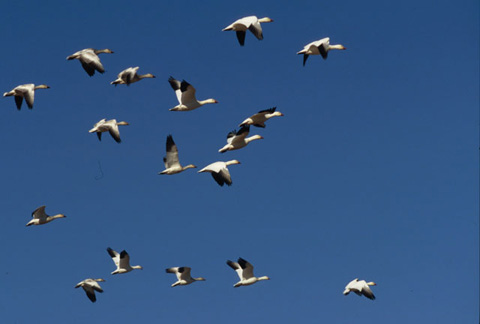 Geese Over the Salton Sea
ANZA-BORREGO SOUTH : BIRDING
Good birding often starts with a look at the earthquake faults. Earthquake faults can mean springs, and springs can mean birds. In the Tierra Blanca Mountains, water also can mean insects, and the birds who feed on them. Look for birding opportunities in:
Agua Caliente County Park —
Bow Willow —
Canebrake Canyon —
Indian Valley —
Mountain Palm Springs —
East of the mountains, the courses of Vallecito Creek and Carrizo Creek support large stands of mesquite. A place to check is Carrizo Marsh in 4-wheel drive country about 7 miles east of County Road S-2
For information on Agua Caliente, Bow Willow, Canebrake Canyon, Carrizo Marsh, Indian Valley, and Mountain Palm Springs, see Guide to Birds of the Anza-Borrego Desert by Barbara W. Massey.