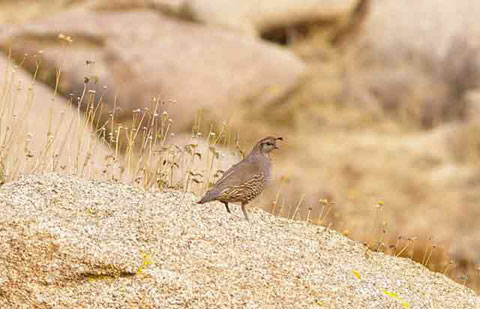 Gambel's Quail at Culp Valley
ANZA-BORREGO CENTRAL : BIRDING HOTSPOTS
For Birding – Agua Caliente County Park, Hawk Canyon, San Felipe Valley, San Sebastian Marsh, Sentenac Cienega and Canyon, Pinyon Mountain Valley, Sonny Bono Salton Sea National Wildlife Refuge, Vallecito Station, Yaqui Well.
Here are some favorite places for birding in central Anza-Borrego:
Borrego Sink — East of Borrego Springs off Borrego Palm Canyon Campground in Anza-Borrego Desert State Park
Peña Spring — Good birding area near Culp Valley Camp
San Felipe Valley — Pacific Crest Trail on the high ground, creekside trails on the low ground.
Sentenac Canyon and Cienega — Riparian area with good bird and animal viewing, riparian plants.
Pinyon Mountain Valley — In a pinyon-juniper woodland. A base for climbing Whale Peak. 4WD road to Vallecito-Fish Creek Badlands.
Yaqui Well — Near the intersection of County Road S-3 and Highway 78.
Hawk Canyon — Remarkable scenery, birding, and wildflowers in a peaceful canyon in the middle of the desert.
San Sebastian Marsh
Fish Creek Mountains — Remote, but don't overlook the possibilities.