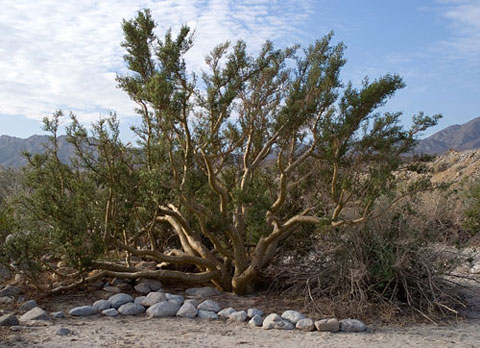 Elephant Tree, Bursera microphylla Burseraceae
Anza-Borrego Central: Plant Life

Elephant Trees Nature Trail
For Plants – Cactus, Desert Ironwood Trees, Desert Scrub to Chaparral Transition, Hawk Canyon, Yaqui Well Nature Trail
When wildflowers blossom in Anza-Borrego, the northern canyons and fields of the Borrego Valley can be remarkable carpets of color. People flock to places like Borrego Palm Canyon, and drive to the north end of DiGiorgio Road or east on Henderson Canyon Road. The rewards are many. Flowers of the Sunflower Family, the Evening Primrose Family, the Four O'Clock Family and dozens of others provide colors and fragrances in profusion.
Here are some other places to look for flowers in central Anza-Borrego:
Culp Valley — where the desert scrub community turns to chaparral.
Pinyon Mountain Road —
Blair Valley —
Pacific Crest Trail —
Plum Canyon — especially when the Desert-Apricot is in bloom.
Hawk Canyon —
The mountains west of Borrego Springs are good places to look not only for desert plants (in spots like Little Surprise Canyon) but for plants of the chaparral as you move past Culp Valley. Entering Anza-Borrego through the San Felipe Valley (on County Road S-2) provides opportunities to see plants of San Diego County's mountains, especially along San Felipe Creek as it flows into Sentenac Canyon.
At Highway 78, the Pacific Crest Trail heads north at a spectacular cactus garden. South of Highway 78 on County Road S-2, the Pinyon Mountain Valley Road provides access to a pinyon-juniper woodland. Plants of the higher desert elevations such as desert agave and California juniper can be seen along S-2 south. Those with four-wheel drive enjoy a turnoff to Oriflamme Canyon in the western mountains.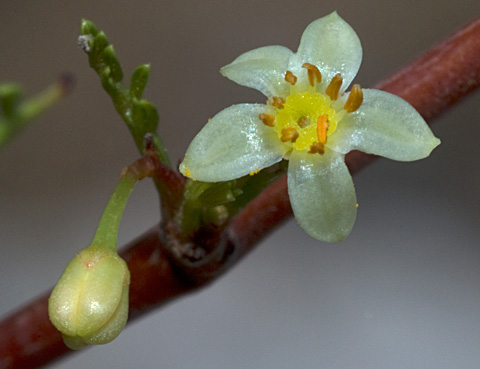 Elephant Tree, Bursera microphylla Burseraceae
Elephant Trees Nature Trail