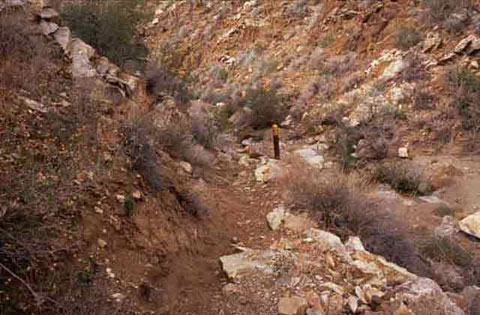 The California Riding & Hiking Trail in Plum Canyon
ANZA-BORREGO CENTRAL : DRIVING AND HIKING
For off-highway driving, go east and try Split Mountain Gorge and the Fish Creek Badlands, perhaps as far as the dropoff (four-wheel drive recommended). From County Road S-2 on the west, you can also drive through the Pinyon Mountain Valley. If you vehicle is narrow enough, you can ease your way through a place called The Squeeze and then go down a dropoff (eastbound motorists only) to the Fish Creek Badlands road. Ocotillo Wells State Vehicular Recreation Area is tailor-made for off roading. The dirt roads of Blair Valley can be driven in an ordinary sedan without four-wheel drive.
San Sebastian Marsh, Mine Wash and Canyon, Pinyon Wash and Canyon, Plum Wash, and Hawk Wash might be considered combination drive-hikes. For those who want to be alone, motor vehicles are not allowed in Chuckwalla Wash or on the trails from the Sunrise Trailhead.
For hiking, the Pacific Crest trail and California Riding & Hiking Trail are major routes through the area. Whale Peak, Granite Mountain, and Sunset Mountain are popular climbs.
Along Highway 78 are many hiking and camping opportunities. For camping, Anza-Borrego Desert State Park offers the Tamarisk Grove Campground at County Road S-3. There is a fee here and reservations are required. To the west is an ABDSP campground at Yaqui Well, and to the north on S-3 is the ABDSP Yaqui Pass Campground which is better suited to campers than to tent campers.