Home | Desert Plants & Wildflowers | Index | Zygophyllaceae | Larrea tridentata
Creosote Bush, Larrea tridentata
White Bur-Sage and Creosote Bush are usually considered the two most common shrubs in Anza-Borrego. Creosote Bush smells good after a rain, and bees are attracted to its bright yellow flowers.
Generally overlooked because it is such a common plant in southwest desert environments, the Creosote offers plenty of beauty if you look closely at the delicate flowers and the fruits, and if you take in the unique smell, which is something of an acquired taste that desert lovers come to appreciate, a smell that hangs in the air after a desert rain and signals to your brain that life is being renewed. It's a happy smell.
And like the plant itself, the story of the Creosote is a story with many branches. There are complex stories that tell of the incredible adaptations of this plant that permits it to thrive in it's harsh environment, like the resinous leaves that help the plant hold on to all the valuable water that it can, by slowing water loss through transpiration.
And then there is the story of it's age. Some Creosote bushes may be counted among the oldest plants in the world. As the plant grows and the crown branches divide, the central branches will slowly die, leaving the outer circle of the plant as the most vigorous part. As this process continues over the years the plant may assume a donut shape, with bare earth in the middle and a ring of growth spread round the center.
Over hundreds or even thousands of years, this slow cloning of the original plant will cause the circle to expand, to take on an elliptical shape as different sections of the plant grow faster than others. Some of these circles have been estimated to be more than 10,000 years old, placing them as one of the oldest living plants on earth. Over the years some of these clone circles have expanded so much that they are not immediately recognizable for what they are; they appear to be individual plants randomly growing across the desert floor.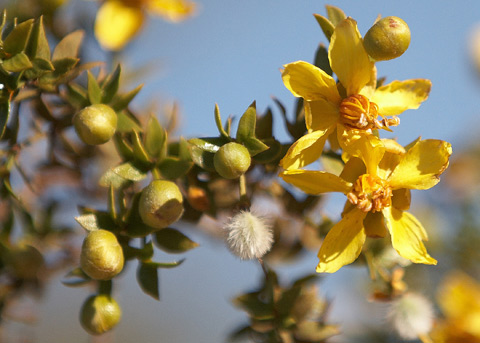 Creosote Bush, Larrea tridentata
Zygophyllaceae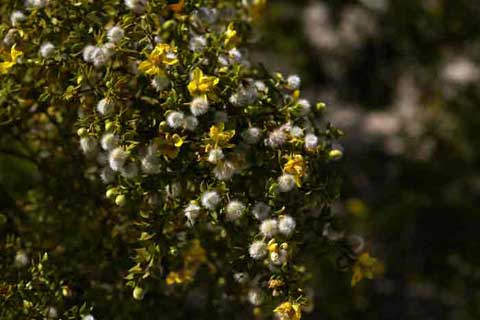 Creosote Bush, Larrea tridentata
Zygophyllaceae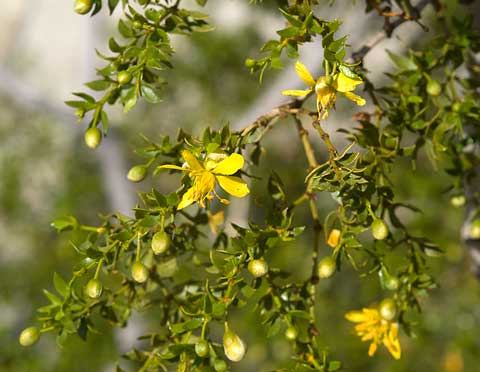 Creosote Bush, Larrea tridentata
Zygophyllaceae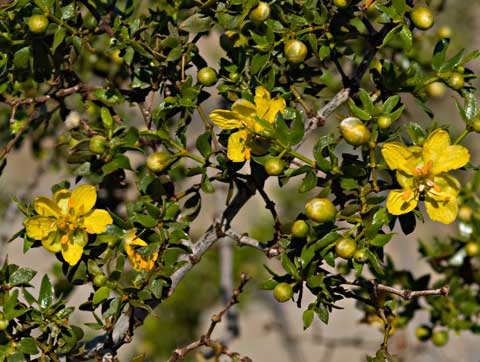 Creosote Bush, Larrea tridentata
Zygophyllaceae
Anza-Borrego Desert Natural History Association
P O BOX 310 ( 652 Palm Canyon Drive) Borrego Springs, CA 92004-0310
Office 760-767-3052 | Desert Store & Nature Center 760-767-3098 | FAX 760-767-3099