Home | Desert Plants & Wildflowers | Index | Pinaceae | Pinus monophylla
Single-leaf Pinyon Pine, Pinus monophylla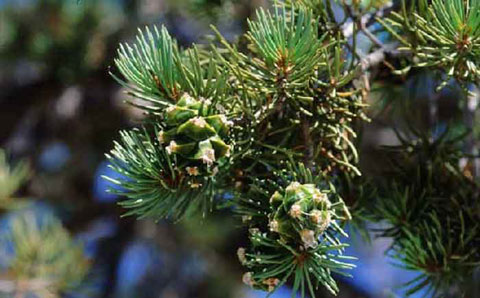 Single-Leaf Pinyon Pine, Pinus monophylla
Pinaceae
This resident of the high valleys and mountaintops was an important food source for the Cahuilla and other native Americans.
It remains vital to birds and ground animals.
This photograph was taken in early July when the tiny cones were starting to ripen and mature. In August the cones turn brown and birds and animals are able to extract their pine nuts. Meanwhile, we humans go to our markets to buy pignolas. Same thing.
This tree is found in pinyon-juniper woodlands.
Anza-Borrego Desert Natural History Association
P O BOX 310 ( 652 Palm Canyon Drive) Borrego Springs, CA 92004-0310
Office 760-767-3052 | Desert Store & Nature Center 760-767-3098 | FAX 760-767-3099