ABDNHA home | Desert Plants & Wildflowers | Index | Fabaceae | Prosopis glandulosa
Honey Mesquite, Prosopis glandulosa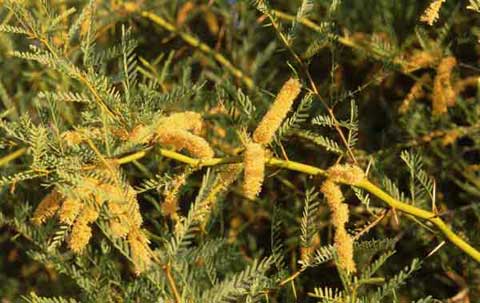 Honey Mesquite, Prosopis Glandulosa var. Torreyana
Fabaceae
Mesquite beans were a staple in the desert Cahuilla diet. The desert Cahuilla harvested the beans and ground them into a meal. The meal could be eaten right away or saved as a sort of cake and stored for future use. A good supply of mesquite beans or cakes could be traded to other Cahuilla families for other foods.
There are two kinds of mesquite in the Anza-Borrego area. Algaroba or honey mesquite, Prosopis glandulosa var. torreyana, is pictured above. It is the more common of the two. The other species is screw bean mesquite, Prosopis pubescens.
Mesquite likes water and is found in large stands in Coyote Canyon, near Clark Dry Lake, and in the south along San Felipe and Carizzo creeks. It is perhaps no accident that Indian villages once stood near such groves. Besides producing beans, the mesquite trees provided a home for edible insects such as grasshoppers and cicadas and game animals from small squirrels to rabbits and quail. Deer, antelope and mountain sheep are known to have been visitors.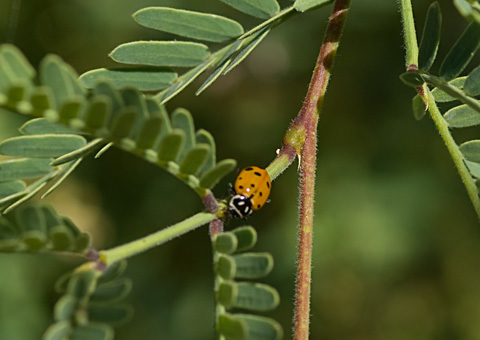 Honey Mesquite, Prosopis Glandulosa var. Torreyana
Fabaceae
San Felipe Valley, 24 June 2010
Anza-Borrego Desert Natural History Association
P O BOX 310 ( 652 Palm Canyon Drive) Borrego Springs, CA 92004-0310
Office 760-767-3052 | Desert Store & Nature Center 760-767-3098 | FAX 760-767-3099