Spring–and butterflies–come early to the desert. By late February when we arrive the early spring butterflies have made their debut. Almost every sunny day without strong winds (most days in Borrego Springs), we head out to favorite locales in Borrego Valley or to Borrego Palm, Hellhole or Plum Canyon equipped with cameras, binoculars, notebook, field guide, lunch and water. As we go along we keep track of each different species and their numbers and find it fun to compare records from year to year--things are never the same!

Our favorite early butterflies are the Orangetips, small white butterflies with orange to red-orange patches on the upperside wingtips.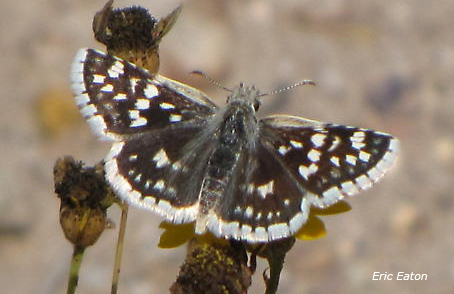 Small Checkered Skipper
Another little spring gem is the Sonoran Blue. The beautiful metallic blue of the upperside is marked by orange patches, one patch on each male forewing, one patch on all four wings of the female. Butterfly aficionados seek out this special Blue especially in Plum Canyon. There, Sonoran males flutter along the base of the canyon walls where the caterpillar food plant, the succulent Desert Dudleya grows, stopping often to perch or to sip Desert Lavender or Sugarbush. Other spring butterflies you may see include the impressive 'Desert' Black Swallowtail with its wide yellow band across black wings. Look for it in canyons, sometimes nectaring on Chuparosa, or on hilltops such as Montezuma Vista Point.
The Funereal Duskywing, another dark but much smaller early March butterfly with blackish wings and contrasting white hindwing fringe, is often seen perching on shrubs about eye level or nectaring at flowers. Perhaps the best known butterfly in the Borrego Springs area is the ubiquitous Painted Lady. This Lady, often observed sipping many different spring flowers including Sand Verbena, is a very early season sight since it either has overwintered here or is a migrant from winter haunts further south in Mexico.

In some years the population explodes with thousands of adults flying. Our valley roads become littered with the wounded and the dead.

Black Desert Swallowtail
As with wildflowers, the butterfly abundance depend upon winter rainfall. This past winter rainfall was sparse until finally in February rain came, about an inch and a half, to give us a wonderful butterfly and flower display in March. The day of our 8th annual NABA (North American Butterfly Association) Butterfly Count, March 22, many more butterflies had emerged from their pupas and were flying.
This year our NABA Count group, which totaled nine volunteers (including Robin, age 1, dressed in her butterfly bonnet), first visited the sand dunes south of the airport to count Mojave Sootywings, mahogany to black butterflies with white spots whose caterpillars eat saltbush, and Western Pygmy Blues, the smallest butterfly in the United State. Then on to the beginnings of Borrego Palm Canyon where we counted 99 Tiny Checkerspots flying around their caterpillar food plant, Chuparosa and one Queen, similar to the Monarch.
| | |
| --- | --- |
| Painted Lady | Next we drove up to Culp Valley and Montezuma Vista Point where we saw the California Patch and the California Marble and many others. Our total count for the day was 32 different species and almost 300 individual butterflies. Our day's highlight? Finding a butterfly we have searched out for years but never found, the seldom seen Small Checkered-Skipper. We waited to confirm the identification until our photos came back from the lab (no digital camera yet), although one member of our group bravely shouted out its name at first sight even though he also had never seen this butterfly in the field before. This made our day as we added species number 102 to our life-list for the region. |
Now is the time to start looking forward to the summer butterflies at higher elevations. Next, the fall butterflies. Last year after summer rains they were abundant, sipping nectar from the fall wildflowers, especially Alkali Goldenbush and Butterweed. And then, more butterflies next spring!
The Monroes are the authors of Butterflies and Their Favorite Flowering Plants of Anza-Borrego Desert State Park & Environs, and members of ABDNHA. They occasionally lead nature walks for members of ABDNHA. © 2004, Anza-Borrego Desert Natural History Association. Article first appeared in "The Sand Paper" Newsletter, Volume XXXII, Issue 5.